The 23nd Annual PMCT Student Citizen Awards were held on May 6, 2019 in the Saxton Middle School Auditorium. The ceremony began with the PM JROTC presenting the colors. PMCT President, Beth Warnken, then welcomed all the students, parents, teachers and staff to the event. Student Citizen Awards Chairperson, Kathleen Murphy and Superintendent of Schools, Dr. Michael Hynes, also addressed the audience. Ms. Christy Reinert and the PMCT Chorus performed "I'll Be There For You" from the television series, Friends. The PMHS Jazz Ensemble lead by Mr. Stephen Mahr also performed a great medley that topped off a perfect night.
Every PMCT member was involved in the selection of the student award winners. Students were chosen by their teachers based on the qualities teachers value most: responsibility, scholarship, citizenship, leadership and effort.
All members of PMCT look forward to witnessing the success of these students as they learn and grow in the Patchogue Medford Community."
Congratulations to all our winners!!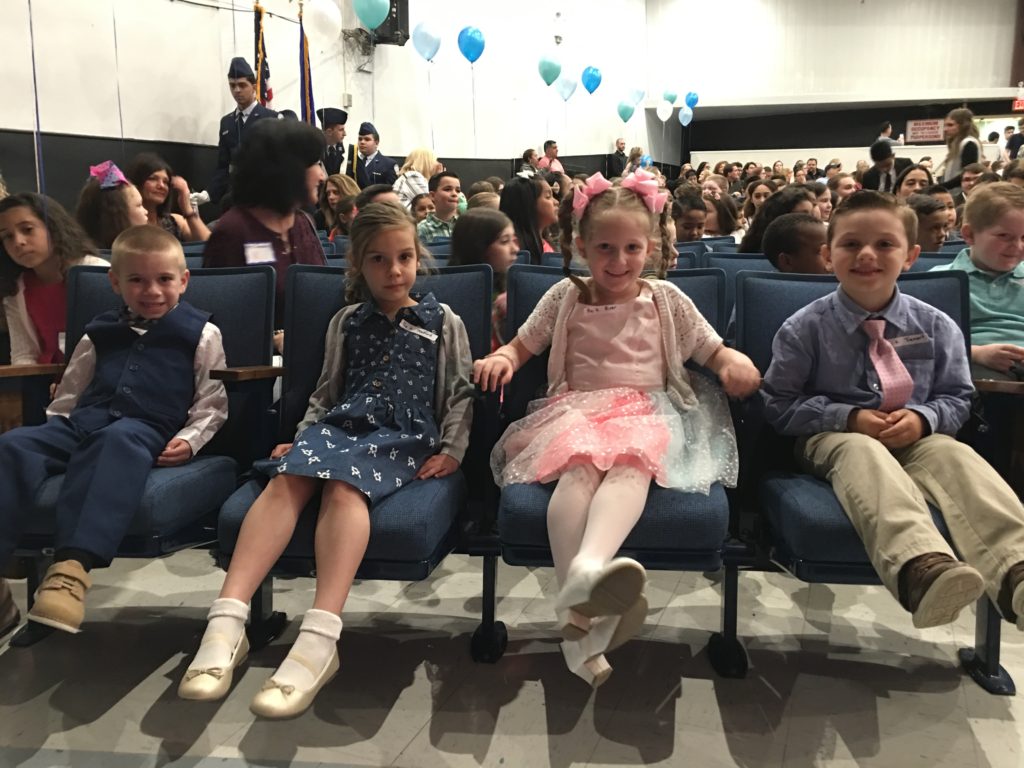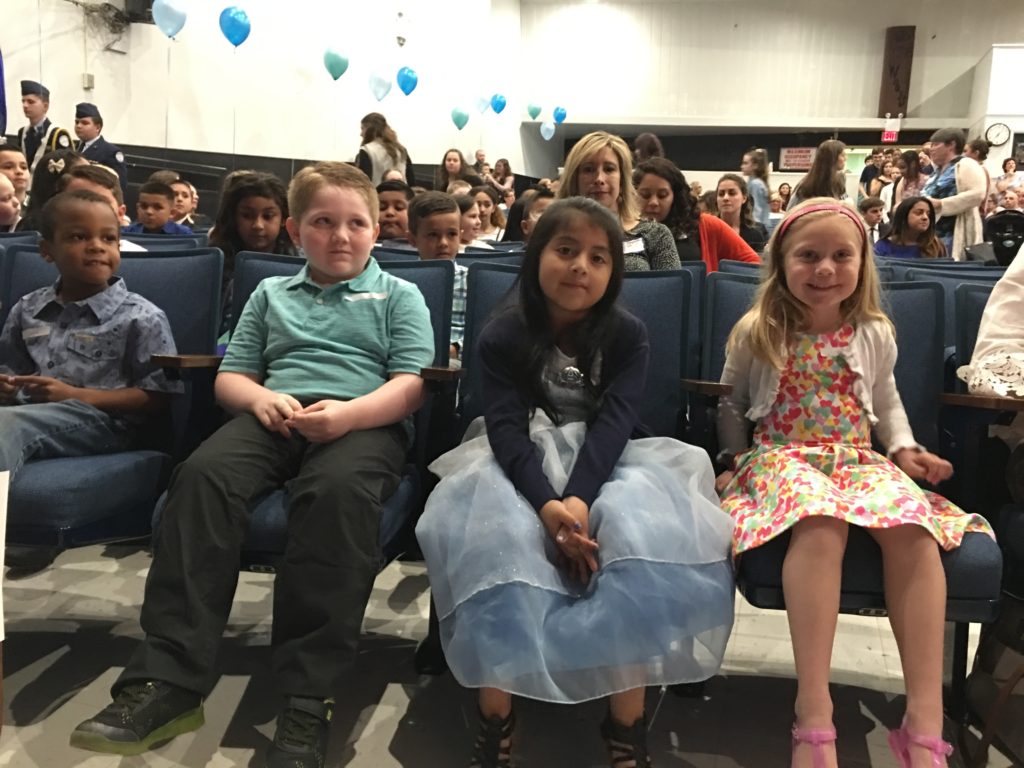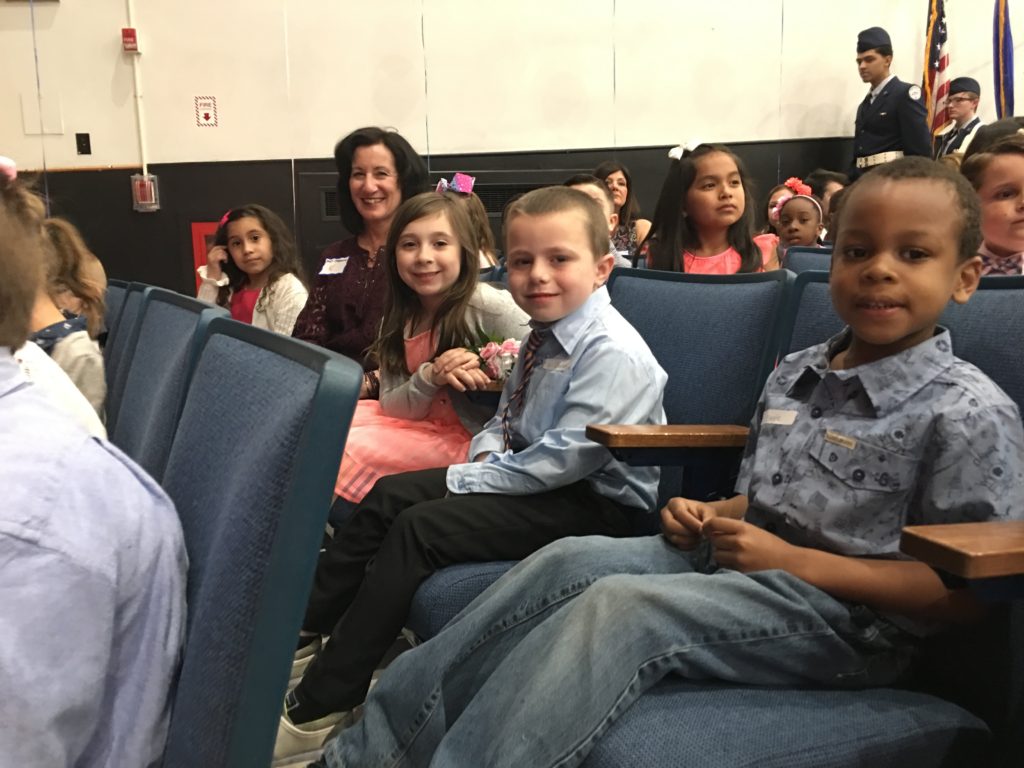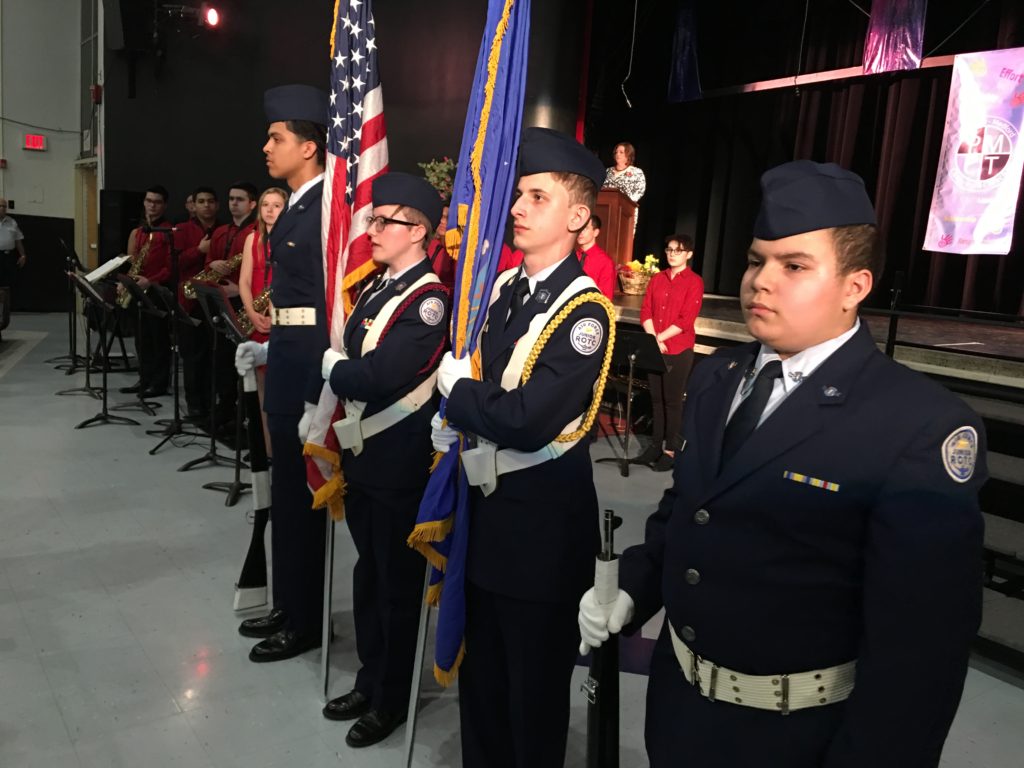 Barton Elementary
Pre K – Luca Brancato
Kindergarten – Mia Gianelle Caceres
1st grade – Sophia Torres
2nd grade – Sloane Colfer
3rd grade – Reagan Gottlieb
4th grade – Emily Cardenas
5th grade – Isabella Iuliucci
Bay Elementary
Kindergarten – Hayden Musante
1st grade – Joshua Amarachi Levi, Jr.
2nd grade – Elizabeth Onyinyechi Levi
3rd grade – Scarlett Perry
4th grade – Joseph C. Badamo
5th grade – Iveth Hilliona Huaranga
Canaan Elementary
Kindergarten – Keegan Matthew Durkin
1st grade – Jordan Andrade
2nd grade – Addison Penny
3rd grade – Francis M. Grillo
4th grade – Ashley Leon Fuentes
5th grade – Cameron Cardella
Eagle Elementary
Kindergarten – Makaii Winn
1st grade – Samantha Martinez Cantera
2nd grade – Analy Saldana
3rd grade – Jacob Mora
4th grade – Jordan Redding
5th grade – Philip DeCarlo
Medford Elementary
Pre-K – Lucy Elizabeth Jantz
Kindergarten – Logan Weiner
1st grade – Adam Carpenter
2nd grade – Leonard James A. Matutino
3rd grade – Isabella Petersen
4th grade – Danny Ulloa
5th grade – Gianna Touya
River Elementary
Pre K – MacKenzie Lago
Kindergarten – Brianna Tigre
1st grade – Kaylee Read
2nd grade – Joshua Rocano Gaona
3rd grade – Sophie Graziano
4th grade – Lara D. Longgos
5th grade – Despina Carver
Tremont Elementary
Pre K – Branden Gary Andersen
Kindergarten – Norah Slavik
1st grade – Leonard Atcosta III
2nd grade – Dylan Espinoza
3rd grade – Zoey Davis
4th grade – Edgar Monico Lopez
5th grade – Rae Ann Hess
Oregon Middle School
6th grade – Ryan O'Sullivan
7th grade – Carlo G. Costigliola
8th grade – Thomas Bowes
Art – Jonathan R. Lake
English/ELA – Hannah Feely
ENL – Justin Fajardo Cherrez
Health – Bryan Frascogna
Home & Careers – Kevin Hidalgo
Math – Danica Sherman
Music – Sophia Fiumano
Physical Education – Alessia Morabito
Science – Sabrina F. Kelly
Social Studies – Jace Rogers
Technology – Michael Diesel
World Languages – Haylee O'Keeffe-Kellers
Saxton Middle School
6th grade – Jackson Wells
7th grade – Isabella Salducco
8th grade – Luca Capuano
Art – Emma Krauss
English/ELA – Ava E. Scheffer
ENL – Bernadine Badio
Health – Sophia DiPrima-Ginas
Home & Careers – Frank – Anthony Corso IV
Math – Ohm Patel
Music – Mackenzie Rose Trpicovsky
Physical Education – Sophia Salamone
Science – Sarah Wetzel
Social Studies – Sarah Terletsky
Technology – Marshall DeJesus
World Languages – Ewan Hargraves
South Ocean Middle School
6th grade – Christian Arevalo
7th grade – Hannah Anne Schlanger
8th grade – Dominick Greco
Art – Grace Kelly Turner
English/ELA – Mallory Rettig
ENL – Alexander Loja
Health – Ashley Ortuno
Home & Careers – Hannah E. Herrera
Math – Jenna Michelle White
Music – Cailey Bringmann
Physical Education – Shianna Smith
Science – Alex Papele
Social Studies – Emma McCarthy
Technology – Jason Cajamarca
World Languages – Gabriela Fuentes
9th grade – Spiro Raffaele Georgotas
9th grade – Cassandra R. Aviles
9th grade – Justin Ricca
10th grade – Jack Cuenca
10th grade – Jenny SortoBernal
10th grade – Aidan McBride
11th grade – Stephanie F. Sheridan
11th grade – Alexa Maggiacomo
11th grade – Sofia Oakley
12th grade – Ishika Patel
12th grade – Xinyi Zheng
12th grade – Gabriella Caporaso
Art – Shay Steuart
Business – Joseph Holochwost
English/ELA – Margaret Eileen Gabel
ENL – Cesar Morales Perez
Health – Chanelle McKenzie
Math – James Pendergast
Music – Cameron D. Wustenhoff
Physical Education – Nolan James Crean
ROTC – Julia Tarling
Science – Alexander Genna
Social Studies – Rylan Jugan
Technology – Thomas Matthew Daquaro
World Languages – Connor Patrick Boothe
EVA DAVIS AWARD WINNERS
Elementary – Joseph Robert LaMartina
Middle School – Nicole Thomson
High School – Bronwyn R. Pashoukos